Atlanta Vinyl Lettering
VIEW GALLERY
Effortlessly share your most important organization information and details and promote your brand with custom business window signs and vinyl lettering!
Whenever a client draws near your facility, they expect to find specific business information conveniently attainable. Buyers will quickly determine if and when they will utilize your business services, and critical information such as your business licensing information, address, wifi availability, business name, phone number, hours of operation, accessibility information, and other relevant business details should be clearly visible. Displaying the business details your visitors require can be successfully done at minimal cost with impactful vinyl lettering.
These impactful vinyl products are individually cut from a high-quality, premium vinyl material ideally suited to match your branding and anticipated application. Custom Cut Vinyl Letters can be put on most any flat surface you can think of from floors to doors, trucks to boats. Wherever your Atlanta company needs to be visible, Avisos Architectural Signage can craft the ideal vinyl lettering to complete the task.
Call Avisos Architectural Signage today at (404) 537-1991 for a Free Consultation with Vinyl Lettering Expert!
Vinyl Lettering For All Business Needs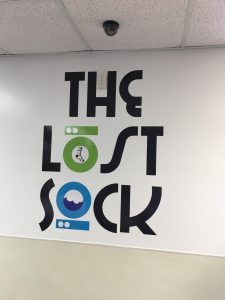 Every shop has unique times that it is open for the public. Most businesses only open their doors during set hours, days, or dates. Professional display of your business operating hours can make a great influence on the customer perception of your brand.
Branded vinyl window lettering shows potential customers that your shop is open for business and that you care about your business image. When potential customers can see that you care about your brand, this shows potential consumers that you care about the high-quality of your products and services. Avisos Architectural Signage creates a great first impression for you with affordable, attractive, and effective lettering and expert installation. We customize all of our lettering, signs, and graphics to suit your corporate personality, ensuring you receive the most attractive signage solution to suit your business and brand instead of the cookie cutter results being sold by other suppliers.
If you must have the perfect signage solution to share your corporate information, Avisos Architectural Signage has the resources and expertise you need to succeed.
Door and Window Lettering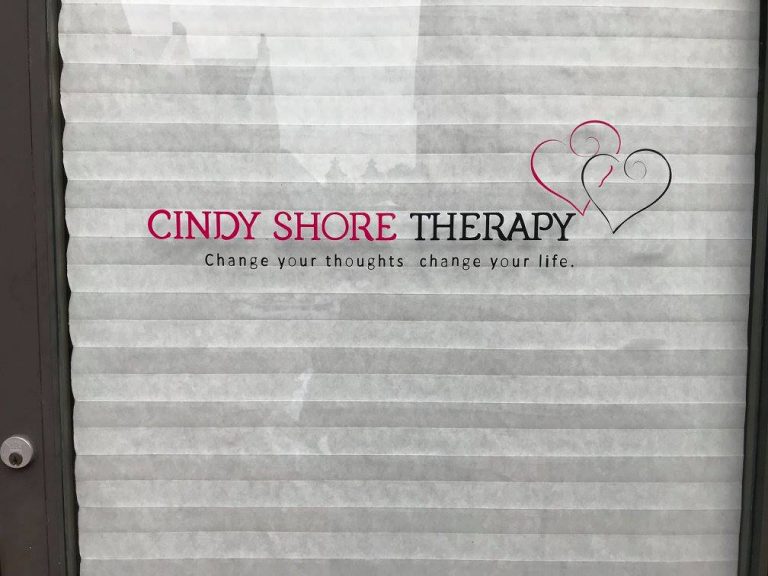 Vinyl window and door lettering is more than just practical, it can also be attractive and eye-catching. Personalize the front doors and windows of your facility with big custom messaging, seasonal deals, corporate information, or expand your window displays by including multi-dimensional graphics. The flexibility provided by individually cut graphics and letters makes it easy to adjust the font, color, and size of your lettering to deliver that unique or elegant appearance you've always wanted.
Vinyl lettering works well for a wide assortment of different business types. Whether you run an office, retail store, restaurant, service provider or manage your business only from your vehicle or home, we can help get your brand seen and remembered.
Commercial and Personal Vehicles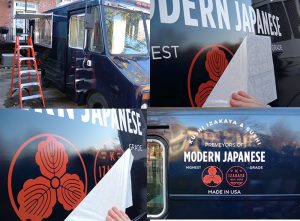 Avisos Architectural Signage delivers professional full and partial vehicle wraps, lettering, and graphics to improve your brand and business on any type of vehicle from cars and trucks to buses and boats. From complete full-color wraps to single letters, we offer brand-building custom vehicle graphics to meet your vehicle type, marketing goals, and budget.
Cut vinyl lettering can also be used to help you remain out of trouble with the legal system. Some corporate information is required by law on commercial vehicles, similar to state licenses or DOT information. We understand the vital importance of complying with our local laws and regulations, we use our expertise to make certain your vehicle lettering is of the correct placement, style, color, and size making it quickly read and understood by regulatory and government institutions.
Full-Service Vinyl Sign & Graphic Company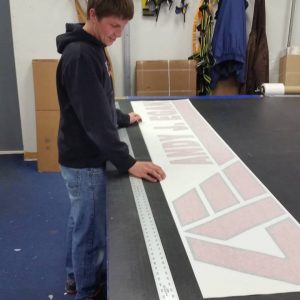 Avisos Architectural Signage is your hometown Atlanta complete vehicle wraps and graphics provider. Our professionals regulate every facet of your custom signage project starting with the free consultation through to complete installation of your signage. When you have just one sign or graphic or a complete collection of business signs and graphics, our experienced signage experts ensure that you have everything that you need each and every stage of the journey.
We focus on environmental sustainability. We employ the most suitable resources, materials, and processes to reduce our impact on our earth and prevent excess waste while reducing your cost. Our knowledgeable installers are concentrated on delivering precision as well. We make sure that your signage products are aligned correctly and is without tears, rips, or warps for a professional finish.
Free Vinyl Lettering Consultation
At Avisos Architectural Signage, our experts take care of every single vinyl lettering project with a sharp eye for details. Our courteous and knowledgeable team members get the job done the right way, every time. When you are seeking the services of an Atlanta, GA signs and graphics expert, let us be your partner of choice.
Call Avisos Architectural Signage today at (404) 537-1991 for a Free Consultation with Vinyl Lettering Expert!