Stone Mountain Vinyl Signs
VIEW GALLERY
Vinyl is well-known in the sign-making industry due to its flexibility and durability. It can be used on practically any surface, highlighting any establishment or workspace. Vinyl works well on many places like walls, doors, windows, vehicles, and even floors!
Vinyl can be fabricated using various finishes, colors, and types which will allow you to choose the best material for your marketing and promotional ideas. It is even amazing for outdoor use or even on high-traffic surfaces.
Get in touch with Avisos Architectural Signage for your free consultation with our Stone Mountain vinyl signs and graphics professionals who understand your needs and available options. We ensure that you are maximizing the potential that will increase your brand recognition and marketing success using impactful vinyl graphics.
Call Avisos Architectural Signage at (404) 537-1991 for your Free Consultation with a Vinyl Graphics Specialist!
Promotional Vinyl Banners
Due to its affordability, vinyl is a popular material for banners. With its durability, vinyl banners can come in various weight, sizes, colors, and display options. While the options may be confusing, we will assist you in determining the best solution that will proudly display your branding. It is perfect for any marketing campaigns and events like announcing your grand opening or participating in an expo.
We at Avisos Architectural Signage will help you fulfill your goals whether you want a full display or an on-site banner. We only work with professionals who will design and develop your banner. You also have access to equipment or accessories that you will need during installation.
Window Vinyl Clings & Film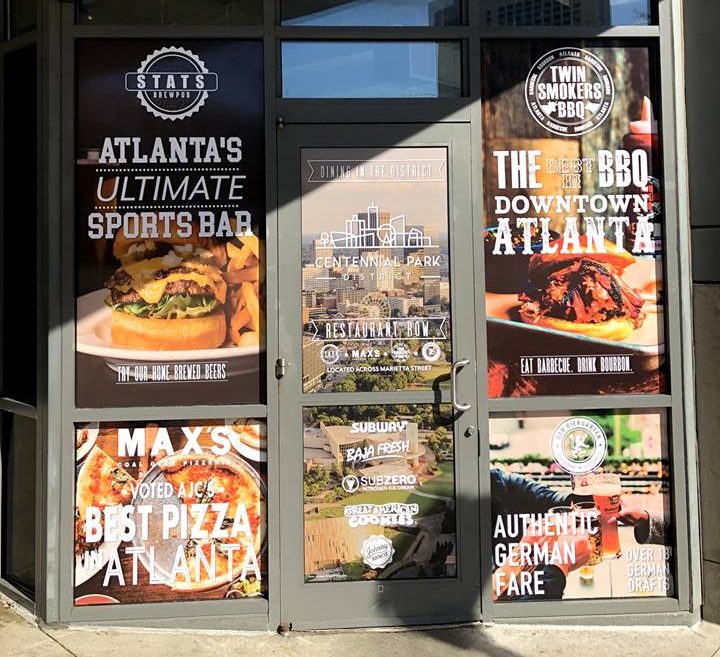 Your window is the most visible part of your business establishment which means it is also one of the best areas for promotional efforts. Using our window vinyl clings and films, you can highlight your brand that will complement your business establishment.
Installation is a breeze as our cut vinyl elements are equipped with static-cling adhesion. It can also be installed with temporary sticky glue which means you can easily replace and reuse window clings which makes it perfect for multiple applications
If you are looking to increase privacy, window films are a perfect alternative to frosted or etched glass. Various establishments like restaurants, offices, and service providers can benefit from privacy while taking advantage of the marketing opportunity. It is also the best solution if you are renting a space and cannot replace the windows.
Our privacy window films come in various textures and styles. These are easy to customize with your logo or branding.
Cut Vinyl Lettering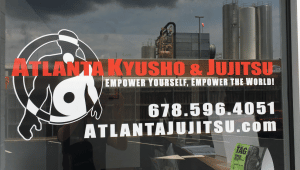 Your door is the first thing that your clients see during their visits. You can take advantage of this marketing opportunity by installing one of our cut vinyl lettering that will provide important information such as licenses, accessibility, business hours, and more.
Cut vinyl lettering and graphics are amazing options to showcase your products and services, build brand recognition, and boost your promotional campaign. Give your business an instant facelift without your low-cost vinyl lettering solution!
Wall Murals & Floor Graphics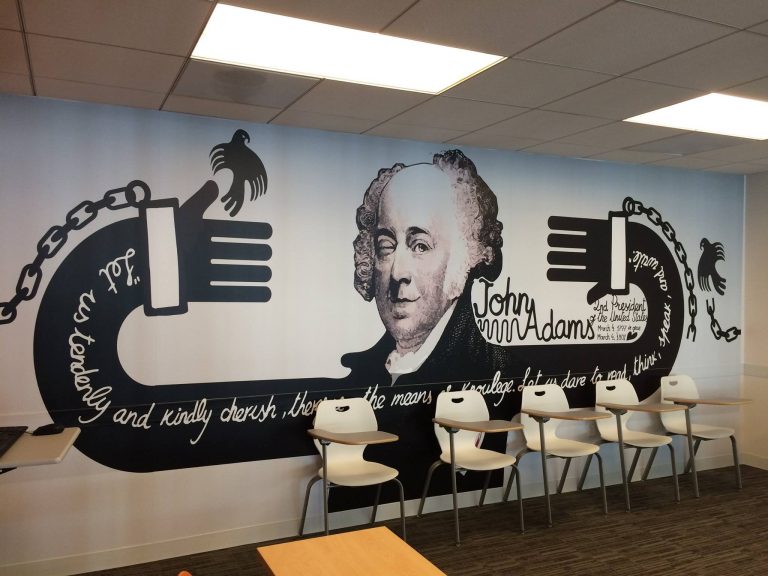 Your walls and floors are the best part to carry your corporate identity and maximize your marketing efforts using vinyl graphics and large format murals. Clever use of wall murals and floor graphics can carry your brand while assisting your customers through wayfinding and displaying significant information.
Use your floors to provide important information, wayfinding elements, customer support, and branding. Our durable floor graphics can be installed on any floor types like wood, concrete, tile, and even carpets!
This makes our dynamic floor graphics ideal for tradeshows, expos, and other events where your clients need help in locating your business.
Turn your ordinary lobby or hallway into a dynamic work of art. Our experts at Avisos Architectural Signage will help you with designing, producing, and installing large format installations.
Vinyl Graphics Options
There are multiple options for using vinyl solutions in your business. It comes in various materials and finishes which means the possibilities are endless. Weights, colors, and application methods can be quite confusing especially if you are ordering from a website.
Vinyl's flexibility and durability make it suitable for various options for your business. It comes in different materials, weights, colors, and application methods. Choosing the best vinyl solution for your business can be confusing and overwhelming.
Here at Avisos Architectural Signage, we offer free, professional consultations. We assist you in making the right signage decision by understanding your business needs and marketing goals.
Popular uses for vinyl graphics include:
Our Stone Mountain, GA vinyl sign professionals can develop custom banners, murals, and display elements of various designs and sizes. Tell us your objectives, and we will recommend the right solution!
Full-Service Vinyl Graphic Shop
Having the best vinyl sign starts with our free consultation. We will discuss your needs, goals, and ideas. By considering these options, we will be able to provide you with the best option for your budget. We can even help narrow your options down.

We at Avisos Architectural Signage provide full design services which means we will assist you during every step. We can work with your existing branding guidelines or even help you design from scratch!
Once the final graphic design is approved by you, our onsite fabrication team will take over to create your vinyl signs efficiently following your specifications.
We do not stop after production! We can install your signs to prevent warping, wrinkles, and bubbles. We have the tools and resources if you want to install the sign yourself. Our Stone Mountain vinyl signage experts are here for you every step of the way.
Free Vinyl Signs & Graphics Consultation
Our custom Stone Mountain vinyl signs and graphics at Avisos Architectural Signage are the perfect solution if you are looking for eye-catching, durable, and versatile solution that will build your presence and protect your assets.
We deliver premium signs, custom-designed, fabricated and installed to complement your brand, meet your promotional needs, and fit your budget.
Call Avisos Architectural Signage at (404) 537-1991 for your Free Consultation with a Vinyl Graphics Specialist!