Redan Wall Graphics
VIEW GALLERY
Build your brand with attractive, durable wall vinyl graphics!
Often for commercial usage, vinyl graphics can turn a long hallway into a story of the history of your organization, add color and excitement to a plain wall, or can proudly display your company logo in your lobby.
No matter what your intended placement, purpose, or size, from hand washing signs in bathrooms to inspirational vinyl graphics in break rooms, our professionals conceptualize, fabricate, and expertly install every signage element your company needs. Whether you know just what sign and graphic elements you need or are looking for help identifying what signage is exactly right for your space and business needs, our Redan wall signage pros deliver the right custom wall graphics for you.
Call Avisos Architectural Signage at (404) 537-1991 for a Free Consultation!
Complete Design Control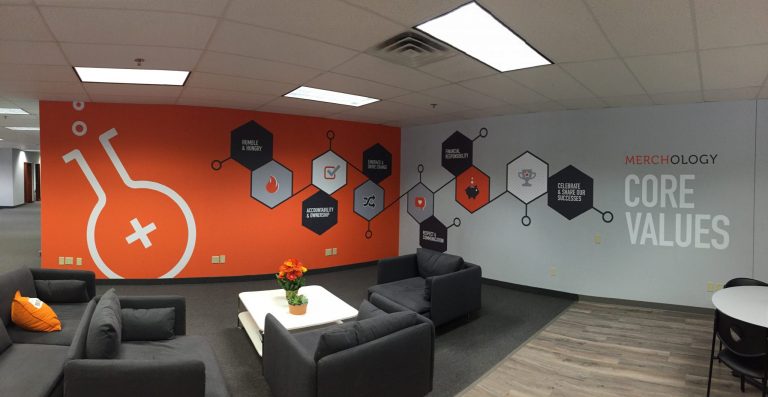 Our company custom produces wall graphics custom crafted for your company, brand, and area. We only use high-quality, high-value vinyl to design eye-catching and exciting wall graphics and lettering that say or display anything you want to tell. From attractive giant landscape murals to individual wall decals that create interest, we deliver a compelling display that works for you.
New product you want to promote? Great idea! We deliver removable wall graphics that can be removed anytime and either returned back to your plain, undamaged wall, or replaced with new graphics to represent your most recent seasonal changes, special events, or business promotions.
Full-Service Wall Vinyl Company
Still searching for the perfect design? No problem at all! Our team of professional Redan, GA sign and graphic designers will assist you with both conceptualization and design. We take care of every single phase of the sign and graphic fabrication process, helping you from layout and design through to high-quality installation in your business. We perform on-site professional signage evaluations, including measuring your walls to ensure your graphics fit perfectly in your space.
Avisos Architectural Signage uses only the highest-quality materials, so you can be certain that your wall vinyl will be eye-catching and in place with a smooth finish.
Professional Vinyl Graphics Installers
Despite the fact that vinyl can be self-installed, for professional results, it is best to have a professional vinyl wall graphics installation specialist to place your artwork. Huge sheets of vinyl are often complicated to place, sometimes causing bubbles, creases, or small rips leaving a less than professional presence.
When you work with Avisos Architectural Signage, should there be any problems that crop up when performing the installation of your graphics, like damage to the vinyl, we will switch it totally free, as opposed to damage experienced during self-install.

Free Wall Graphics Consultation
The crew at Avisos Architectural Signage are devoted to presenting your organization with superior sign and graphic solutions and knowledgeable support. Our intent is to emerge as your one-stop Redan sign company for all of your company signs and graphics desires. With a huge catalog of commercial sign solutions and services, we go the extra mile to make sure that your business looks cohesive, professional, and completely ready to help the new, local customers and clients your signs and graphics will pull in day after day.
Call Avisos Architectural Signage at (404) 537-1991 for a Free Consultation with a Wall Graphics Expert!