Stone Mountain Wall Murals
VIEW GALLERY
Promote your brand with durable custom wall murals and graphics by Avisos Architectural Signage!
When utilized for organizational usage, custom vinyl wall murals can make a boring hallway into a visual story of your corporate history, add color and excitement to an uninspiring wall, or can allow you to promote your brand in your main entrance.
Regardless of your desired placement, size, or purpose, from wayfinding signs and graphics to impactful break room custom murals, our experts plan, manufacture, and install every sign and graphic your Stone Mountain company requires. No matter whether you already know just what sign and graphic elements you need or are looking for assistance selecting what is right for your brand, space, and business needs, our advisors will provide the right custom wall mural for your budget.
Call Avisos Architectural Signage at (404) 537-1991 for a Free Consultation with a Wall Mural Expert!
Complete Design Control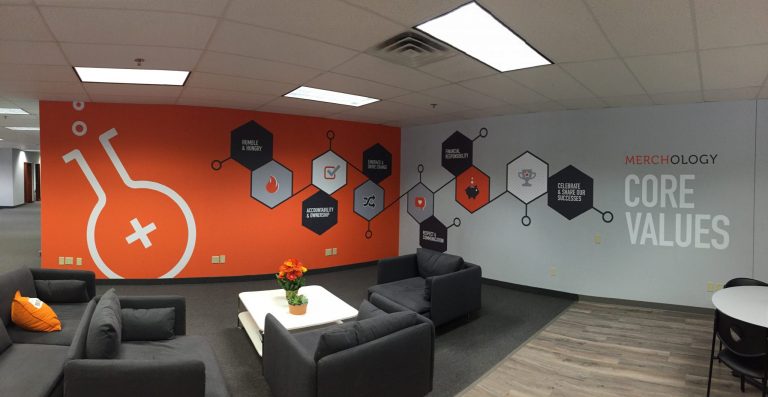 Our Stone Mountain, GA company custom produces wall murals made for your company, branding efforts, and location. Our sign manufacturers use high-quality, durable vinyl to construct attractive branded wall lettering and graphics that can highlight any message, feeling, or story you wish to display. Everything from large-format, breathtaking scenery murals to cut wall decals that promote your brand, we handle it all.
Time for a new look? That's no problem! Our removable wall murals can be taken down whenever you want. They can be either reverted back to your damage-free surface, or replaced with updated graphics that will exhibit the most current special events, business promotions, or seasonal changes.
Full-Service Wall Vinyl Company
Stuck for the perfect idea? That's what we are for! Our team of talented sign and graphic designers assist with developing the perfect design. We cover every step of the process, helping you from creative design all the way to expert installation in your business. If necessary, we can even perform an on-site evaluation, including measuring for proper fit.
Avisos Architectural Signage uses high-quality vinyl materials, allowing you to be positive that your new wall vinyl will be durable and impactful with a stunning finish.
Professional Vinyl Mural Installers
Vinyl can be self installed, for a smooth finish, it is best to trust a knowledgeable vinyl mural installation company to place your finished artwork. Large sheets of vinyl are usually tricky to work with, now and then leading to small rips, tears, or cracks causing an unprofessional overall look.
When you trust Avisos Architectural Signage, if there are any complications that occur when performing our professional installation, such as damage to your wall graphics, we will remove and replace it free of charge, unlike problems sustained during the course of self-installation.

Free Wall Mural Consultation
Our experienced Stone Mountain sign and graphic professionals are determined to supply the ideal signage elements for your company. Our intent is to end up being your trusted sign and graphic firm for all of your corporate signs and graphics requests. With an extensive collection of sign solutions and services, we assure your business is always looking attractive, eye-catching, and completely ready to make it easier for the new potential clients and customers your sign elements will draw in each and every day.
Call Avisos Architectural Signage at (404) 537-1991 for a Free Consultation with a Wall Mural Expert!